SFDPY18 - Behind The Screens
A lot of things happen to make an event happen, this post aims to list those out while crediting all those involved.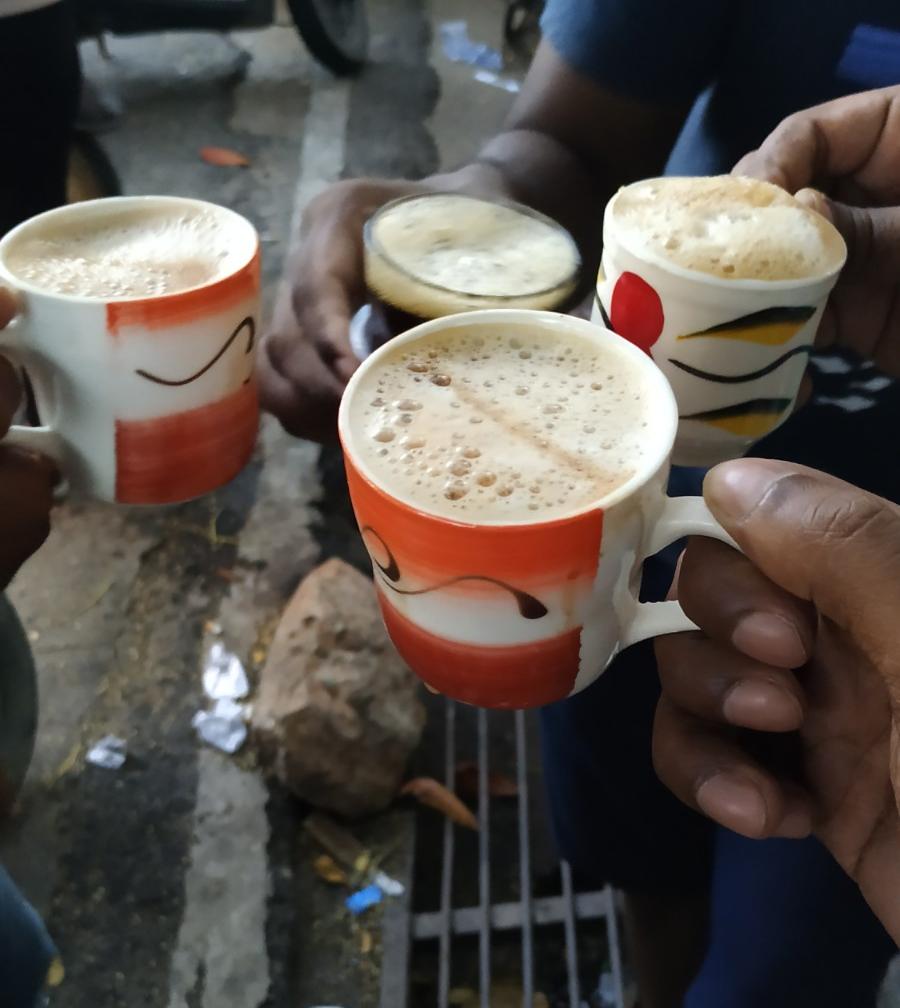 Kamalavelan has already written about what happened on Software Freedom Day celebration for the year 2018. This post will paint you the picture of what happened behind the screens and who did what.
The objective of writing this is to duly credit those who worked behind the screens and the amount of labor power they have put into it.
This year's SFD was coordinated by Kamalavelan. He was the one who initiated the call for celebrating the event and took it to our mailing list on September 4, 2018. From there, he also coordinated 2 Sunday meetups to consolidate the number of participants and stalls. We used a etherpad document to keep track of those information and constantly update the pad with new stalls.
Petit Seminare Higher Secondary School  was secured as the venue by Kamalavelan with the help of S. Ramachandran who is a social activist at Pondicherry. Petit Seminaire as a venue is quite important as it is a well recognized school at Puducherry, and is in the center of attraction on the Sunday's bazaar. This allows for people unfamiliar with the idea of  Software Freedom Day to spend an hour of their Sunday, thereby increasing the number of visitors.
The event needs outreach and advertising and for that we need invitation and poster. Ragulkanth designed the poster for the event within 2 nights with a lot of dedication and efforts he put into minor design details and the outcome is what you see below. He has also shared the source of this poster in his gitlab repository.
There is no doubt that the poster is very attractive, but it needs to be printed materially and distributed. To print and distribute them requires money. Therefore, Kamalavelan and Vikneshwaren (though he is in Delhi) started to ask for donations to previous contributors and participants of the events who are now earning financially. The list of donors has already been acknowledged in the previous post.
With the funds started to flow in, the color posters were printed in A3 size and in one particular evening Ganesh, Maniraj, Ragulkanth and Kamalavelan sat together to wrap them in a envelope and write the recipient details on it. The next day it was posted to the recipients (schools and colleges) via IndiaPost's business mail.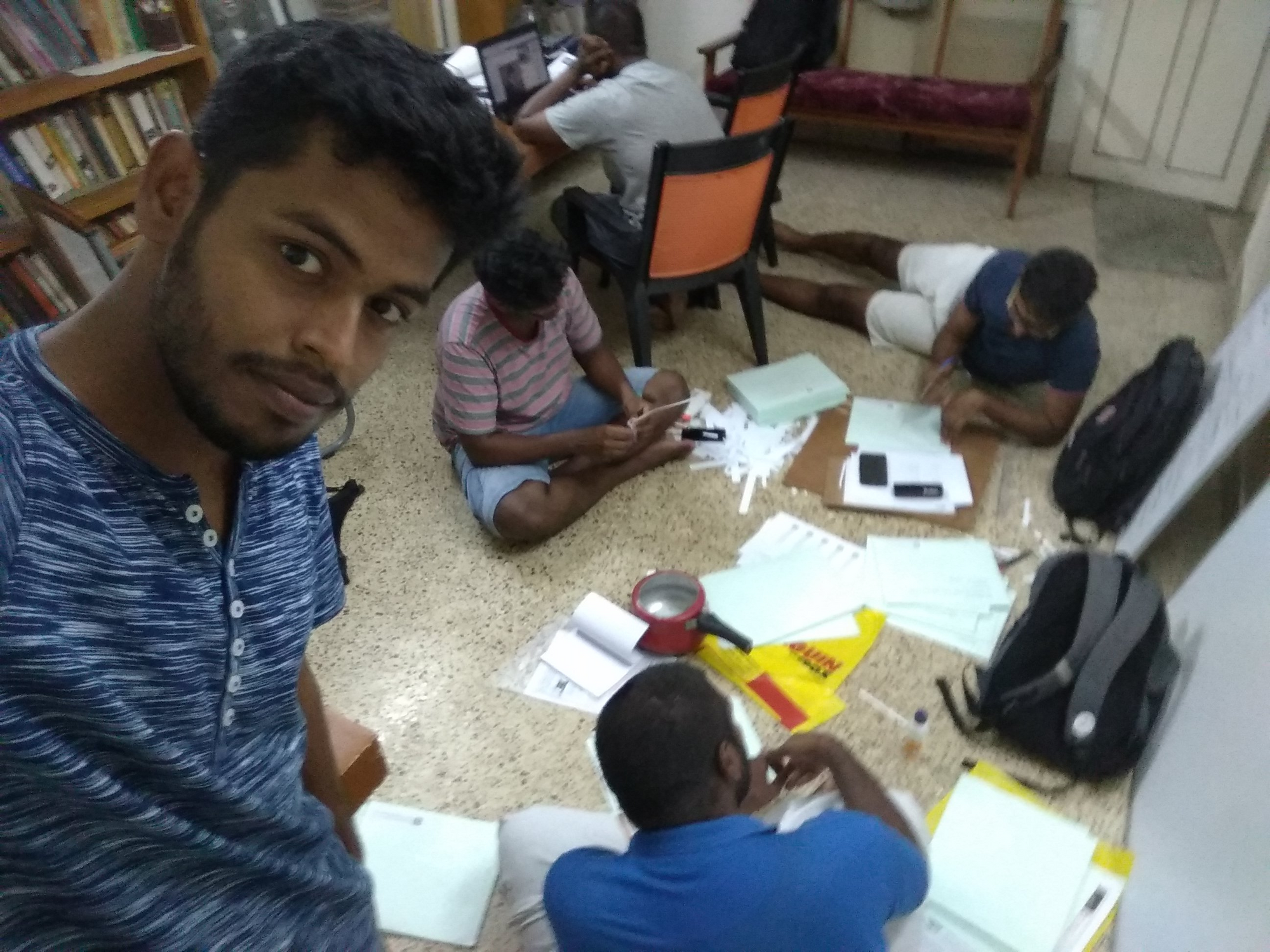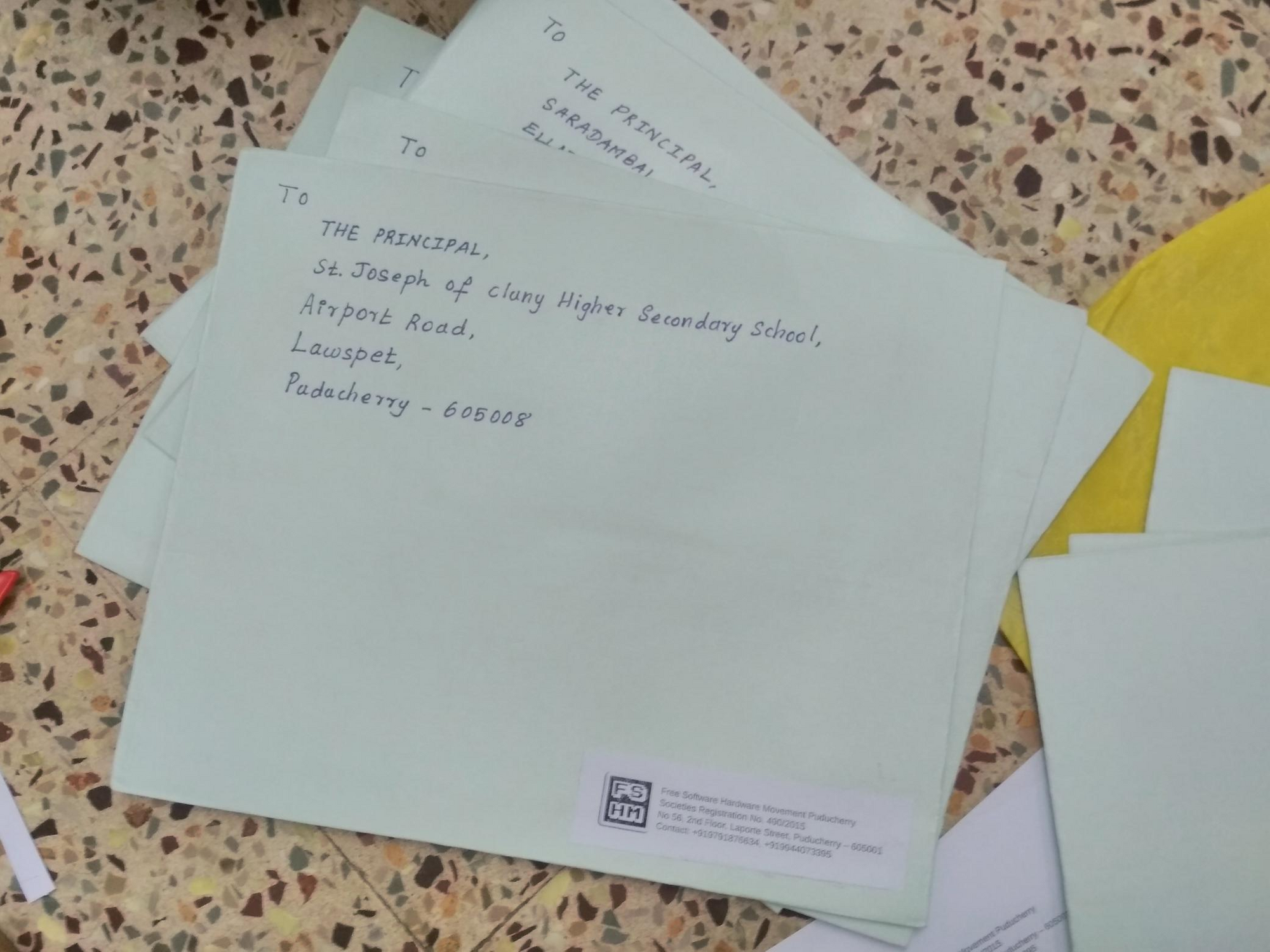 Dinaesh, a class 11 student, collected the posters in person and took it to his school for distribution & display there. Arunekumar printed the posters, in color, by himself for distribution at Pondicherry University and nearby colleges. He also personally contact people to ensure that the posters were displayed. Ragulkanth had took the poster to a restaurant operated by his friend and put it up there.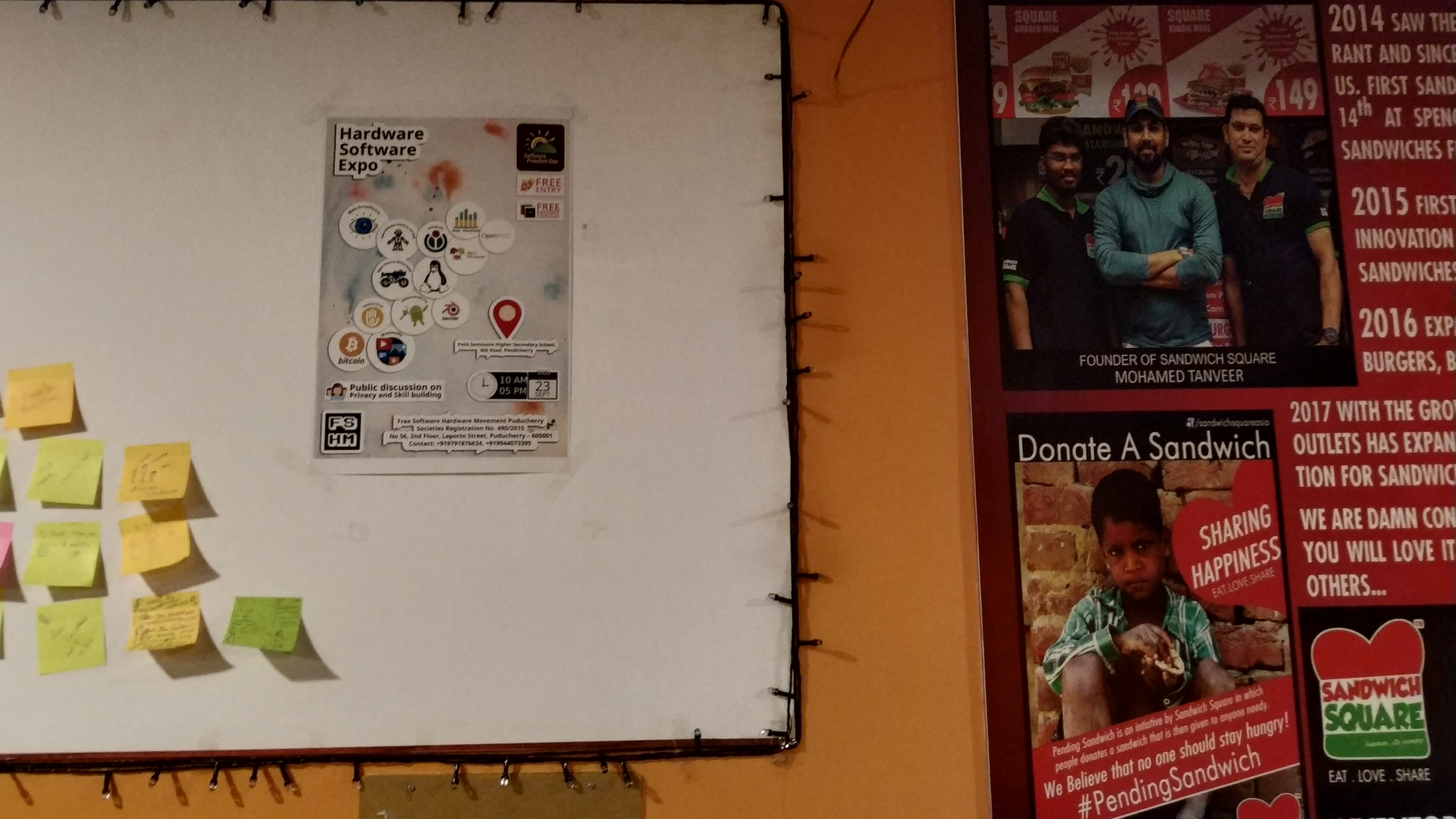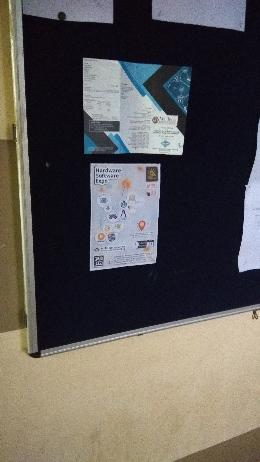 Beyond these, Praveen, Charumathi, Sharmila, Devasena, Mrinalini have also did a class to class campaign in their college. Thanks to Kavine who also spread the message in social media.
We also distributed a lot of goodies (stickers, badges, posters) during the event. Thanks to Free Software Foundation Europe (FSFE) for generously sending out these goodies for free overseas :-) Naveen & Sarath contributed the goodies they had collected during previous events and Kamalavelan ordered for a new set of goodies for this year from FSFE.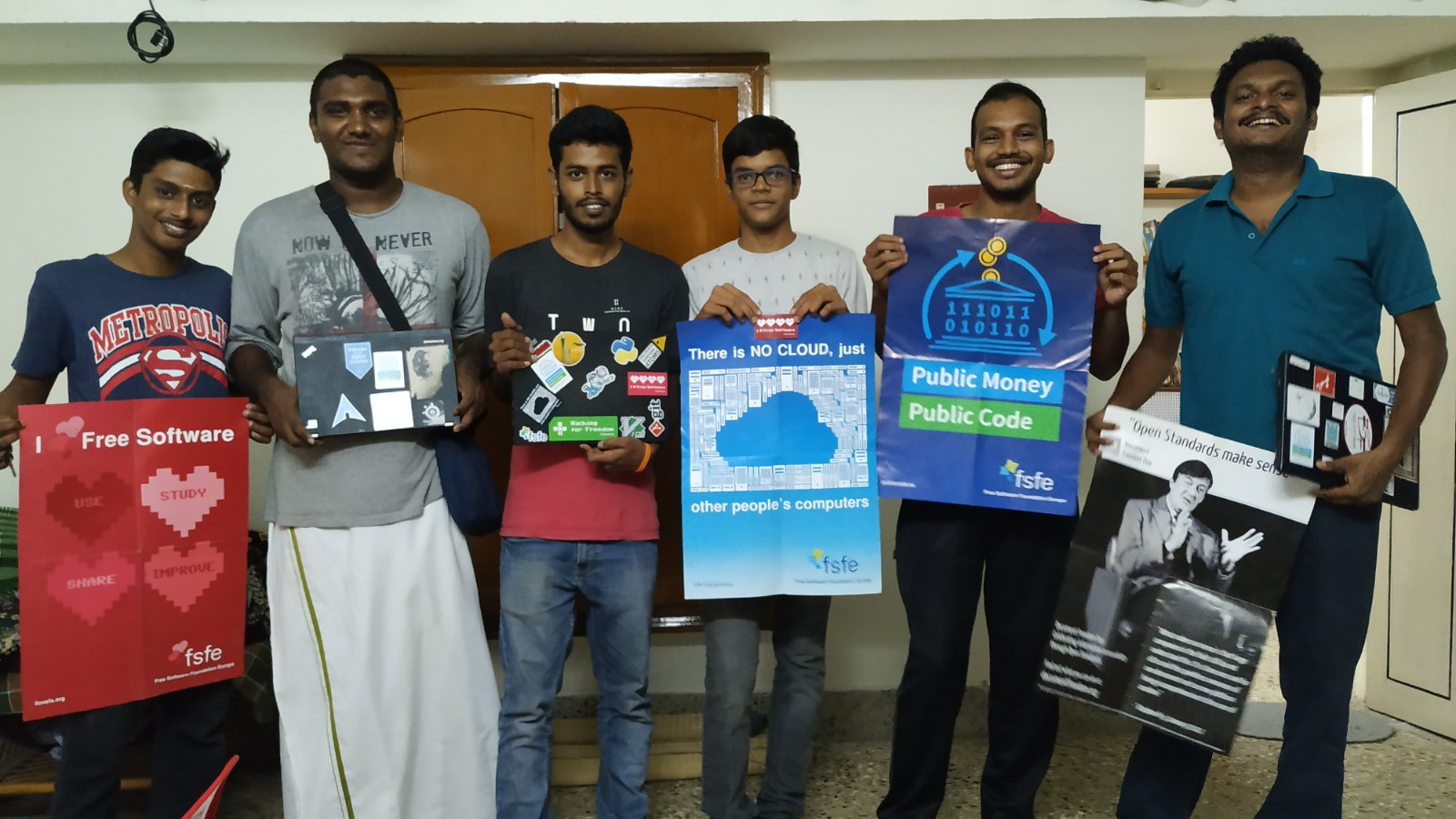 On the day of the event, Puducherry's primary source of dairy products, its milk producers cooperative - Ponlait was undergoing a shortage in supply during which Maniraj was able to identify and procure adequate number of Ponlait's masala buttermilk packets to the team during a hot Sunday noon. We had a delicious Sambar rice (Bisibela Baat) with spicy potato curry and Maravallikizhangu (tapioca) chips for lunch. Once again thanks to Kamalavelan for arranging the lunch, with the help of Naveen & Maniraj to transport the lunch to the venue. There was over 1/3rd of the food left which was distributed to hungry people on the streets and near the General Hospital.
Arunekumar, Naveen, Kamalavelan and Prasanna arranged the classroom benches to setup stalls and re-arranged them back in the evening before we left. Few more people joined us in re-arranging though I was not able to remember them now. Thanks a lot folks.
We also distributed certificate of participation and special certificate for free software advocacy champions, who took special efforts to advocate the use of free software at their workplace. Both certificates were designed by Ganesh.
The accounts for expenditures and donations were taken care by Maniraj, Ganesh and Kamalavelan. Finally, post the event we had a ice-creams and milk-shake party to celebrate the labor that had gone into organizing such a nice event this year!